AbunDance Academy of the Arts
We are happy to learn that the AbunDance Academy of the Arts is creating spaces for underprivileged and minority individuals to be educated, and thrive as artists. Similar to Brown Girls Do, this organization's efforts are to groom the next generation of multicultural dancers and performing artists, break down economic barriers to access, and make a performing arts education accessible for all. Cultivating talent while ensuring equal opportunity in the arts is the objective of AbunDance Academy, and we encourage you to support such proponents of diversity and inclusion.
About AbunDance Academy of the Arts
AbunDance Academy of the Arts is a 501(c)3 non-profit organization whose mission is to provide stellar arts education to students who seek enrichment within the "AbunDance" that the world of performing arts provides. We foster a nurturing environment that emphasizes a well- rounded and thorough approach to the arts and more importantly, to life. With a healthy and robust curriculum, we offer specialized classes in dance, martial arts, theater, vocal and music performance as well as adult programs for fitness, health and wellness at accessible rates so that people of all income levels can experience the arts first-hand. Our diverse faculty roster includes highly skilled teaching artists who are passionate about their artistry and the budding artistry of each and every student that attends classes at AbunDance Academy of the Arts. Our goal is to groom artists of vast backgrounds and hone creativity and superb talent. AbunDance Academy of the Arts gives students/ clients the opportunity to explore their passions, and is truly a place where "In AbunDance, there's Dance!"
Founded in 2013 by Karisma Jay, an acclaimed dancer and actress who has performed on Broadway, television and with numerous dance companies including Ronald K. Brown/ Evidence, Maimouna Keita, Creative Outlet of Brooklyn, Brooklyn Ballet, and Abdel Salaam's Forces of Nature, Jay found that the world of performing arts wasn't available to people who came from lower income households. Growing up as the child of a single parent, she felt blessed that her mother worked so hard to secure the funds to give her top-quality training so that she could pursue her passion for dance. After years of performing on stages around the globe, Jay decided she wanted to help give the next generation of dancers the opportunity to receive superior instruction without cost being a barrier to entry.
AbunDance in Brooklyn
Brooklyn, NY – AbunDance Academy of the Arts is an established non-profit arts organization dedicated to offering children and adults top-notch free and affordable dance, theater, and musical instruction at all levels. From full scholarships to low sliding scale fees, the organization makes arts education accessible to people of all income levels so that they can experience the arts first-hand. Through its top notch, hands-on instruction and partnerships with community organizations that provide after school programs centered on the arts and youth mentorship and senior centers, AbunDance Academy of the Arts serves over 100 students annually. Located in Brooklyn's Prospect Lefferts Gardens' neighborhood, the school annually trains students aged 2-80 and offers sliding scale fees to families in addition to full scholarships. AbunDance Academy of the Arts also offers adult programs and teaches special classes for adults well into their senior years.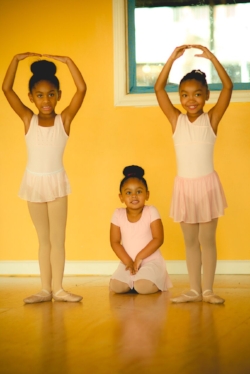 "There is so much raw talent in the world that isn't being developed solely because of the fact that education in these art forms is so costly. I wanted the school to be a place where the focus is on developing students' innate gifts without it being a financial strain for their families" said Karisma Jay, Founder and Artistic Director of the AbunDance Academy of the Arts.
As a teacher of children and adults, Jay strives to be a walking example of how the arts can be healing and impactful in one's life.